How To Get Discounted And Cheap UK Rail Tickets

It is still possible to buy cheap UK Rail tickets for travel, particularly if you are willing to spend a little time and effort planning your journey. Save up to 80% on the cost of train tickets by booking your ticket online here. On average, our customers save 43% on their train tickets compared to buying the same ticket from the train station on the day of travel. Get cheap train tickets. Book online here.
With the yearly increase in train fares across the UK, the cost of rail travel is becoming ever so high.

You can nevertheless, still get cheap train tickets to anywhere in the UK and pay less than the standard price for your planned journey. All you need to do is to know when to travel, buy your ticket as early as possible online here and know how to break your journey into parts, in some cases.

Some of the discounts you could get are pretty staggering.

Yes. It could be as much as up to 75 or 80% off the normal price of a travel ticket compared to buying that same ticket from a train station on the day of travel!

So it is always worth looking around to see what is available in the way of cheap UK Rail tickets and master the tricks to travel cheap in the UK everyday. Think of the fortune you could be saving if you take the train to work everyday.

Let's take a look at the top tricks to getting cheap UK rail tickets and start saving today. You can book your ticket right away using the search box to your left. That is what this site is about ... bringing you "cheap UK train tickets"and help cut the cost of your travelling to anywhere in the UK.

Our discounted rail ticket website welcomes suggestions and comments from daily and infrequent train users on what their experience is on buying train tickets. Please feel free to add your views below.

How To Get Cheap Train Ticket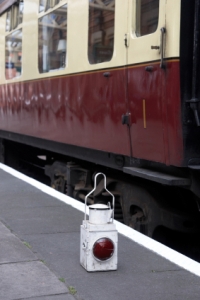 Many of our visitors often write to us, asking "how do I get cheap train tickets" or where to get such from?  You do not have to pay the full price for a ticket anymore. Just master the tricks on how to get cheap train ticket in the UK. 
Often people complain about the price of rail travel in the UK, citing how it cost them almost £200 to get to London from Manchester, when it is a journey that is around 2 1/2 hours.
Why should you pay such a price for that journey if you can avoid it? Let's show you how to pay from as little as £1.50 on rail journeys in the UK. Yes. You read that correctly; train journeys from London to Manchester from £1.50.
Here are our top 7 tips on how to get a cheap UK rail ticket. If you have found other ways of travelling cheaper on the UK railway, we would love to hear from you. Please post your tips here by using the comment box below.

Buy Tickets On Time.

Early bird, they say, "eats the fattest worm". This is literally so with train tickets. All train journeys are priced well in advance, and tickets for them are released at least 12 weeks (3 months!) before hand. A graduated discounted pricing is then applied to the tickets, with the price on the tickets rising as the travel time on them approaches. The sooner you buy tickets online before your travel day, you stand to save a lot from the standard fare. So. As soon as you know you will be travelling, get your tickets online.

Plan You Journey For Off Peak Times. 

This is a well known way of significantly cutting on your travel cost and get yourself cheap UK Rail tickets just by altering your travel time where possible. Plan your journey for the off peak times. If you want to travel to London and back on the same day, then it is always best to travel before 4 am or after 9:30 am and then return say at 7 pm or even later if you can. This is because these times are not convenient for business travelers. You not only travel for less, but in greater comfort as there are less number of people on the train. So, if you are flexible, you have more chance of getting a cheaper ticket.

Look Out for Single Fares. 

To get cheap UK rail tickets to any where in the country, you may be surprised to find out that buying a return ticket isn't always smart. Take the pain and enter the "legs" of your journey as singles, instead of return, and then re-enter your journey as return and see potential savings if it applies to your trip destination.

Split The Journey. 

Splitting your journey into several small bits may also help. So you can buy a ticket from say Crewe to Watford and then Watford to London. This method works most of the time, but you will have to enter in several journeys in the ticket search box. You can find the details of the stations along the route you plan to travel on, and then using different stations, to find out which one offers you the best price. Hard work, but it may pay you a handsome reward in savings on travel cost. Just think about it; it may take you no more than 20 minutes to do such research, yet this can potentially save you over a £100 depending on where you are travelling to. How many people earns a £100 in 20 minutes? Also, if you can, think about using a different station. So instead of thinking that you have to travel from Crewe to London, can you travel to Stoke and then get another train (after 9:30 am) from there? This may cut down the cost of your travel significantly.

Use Railcards & Other Discount Cards. 

There are railcards, oyster card and other discount cards for rail users to save you further on your rail journeys. Buying a railcard, or student oyster card saves you at least a further 30% on your journey. Just imagine the total savings if you apply all the above tips on how to get cheap UK train tickets, combined with a further thirty percent savings? What a smart way of getting cheap UK Rail tickets! If you are aged between 16 to 25 years, or you are a student, or even travelling as a family, or you are 65years of age or above, or if you are disabled, never ever pay the full fare on train tickets. This is true more so if you are a frequent user of the train. But even if you are not a frequent user, and you are, say coming to the UK on holidays, you might find out that buying a railcard and using it when you buy your train tickets could still save you lots of money. Get more information on where to buy railcards here.

Travel On Megabus Or Megatrain.

If you book in good time from your travel date, you could travel on the Megabus or Megatrain to many destinations in the UK from £1.00 only plus a booking fee of £0.50p! What could be a cheaper way of travelling? Yes. You could travel from London to Manchester from £1.50p!
Get Tickets Directly From Train Operating Companies. Another often ignored way to get cheap UK rail tickets is to buy your train ticket directly from the Train Operating Companies. Look for the train operating company servicing the route you plan to travel on and buy tickets directly from them. 
Bonus tip: If you are planning to take a trip to London on sight seeing, you could buy the London Pass plus travel Card, which gives you access to see over 55 attraction spots for unlimited travel within London, with a potential savings of over £460!
We hope you find these top tips on how to get cheap UK rail tickets useful.

Cheap UK Rail Ticket Tips, Queries & Reviews: Have Your Say!
Do you have a great story, tip, or experience about getting cheap UK rail tickets? Or do you have a query about the best way you can save on a proposed UK train journey? We would love to hear from you!

Please feel free to respond to comments or questions asked by other users below.
What Other Visitors Have Said
Click below to see contributions from other visitors to this page...

London To Winchester Not rated yet
Dear Team, I need to go to Winchester (return from London). As you have your route to Southampton and further on, can one buy this ticket and get off at …
ticket from Ash to Maidenhead Not rated yet
When I use the train for work, I usually purchase a ticket from Ash to Maidenhead, but this morning purchased from Ash to Slough. I don't understand …
Return To Homepage From How To Get Discounted And Cheap UK Rail Tickets Page