Railcard:
Low Cost & Versatile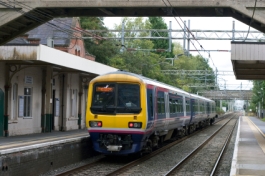 A railcard used to be seen as the prerogative of students and no one else really, but now that has changed. They offer value for money if you travel by rail regularly anywhere in the United Kingdom, saving you at least 1/3 on certain rail fares.
There are several card plans available for different groups, according to need. Are you retired? Traveling with family? Disabled? member of HM Forces? Or looking to travel in certain regions of the UK only? You may be suitable for a discount rail card.
So have a look and see if you qualify for a card and save up to a third on the cost of travel any where in the UK train system, bus, oyster approved and much more. . .
Types of Cards:
16-25 card. Anyone who is aged between 16 and 25 can take advantage of a card which only costs £24 but will give one third off rail travel, meaning that you don't have to be a student now, to take advantage of the plan, just between 16 and 25. In addition there are lots of discount offers for you to take advantage of.
Student card. Are you more 25 years old, and still in full time education? Then you qualify to buy the student railcard and save money on transport to and from college or uni. It is exactly the same as 16 - 25 card, except that it also accommodates all full time students. Enjoy this discounted way of traveling while it last. Get your student rail card. You could even save further by looking out for student railcard promotional codes online or go into your local Natwest Bank and ask to open a student account, and get a card to last you for 5years with up to 25% discount!
Family and Friends card. The Family and Friends card is available to anyone who is using a train with children. You get one third off an adult fare and then a massive 60% off the children's fares and yet the card only costs £24 for a year. You can also benefit from the discount offers that will be sent when you get your card.
A Seniors card also costs £24 and gives one third off travel for anyone who is aged 60 or over. This means that you don't even have to be retired to take advantage of this card, you can have it even when you are working. And the discount offers are also available with this card.
Disabled Persons card. If you are a disabled person who has difficulty using a train, due to your disability, then you and a carer or helper can each get a third off your fare with the Disabled Persons card. This card also works out cheaper, at only £18 per year, or you can buy a 3-year card for only £48.
So, with all these different types of discount cards on offer, there are relatively few people who won't actually qualify for a railcard and if you use the train on a regular basis, then the savings can soon add up and it is a good investment, particularly now that the cost of fuel is so high.
Why spends so much when you can safe that much. You can buy a buy a rail card here
If you are still thinking of how much you could save on the current journey you are planing, why not put in your destination and see in real time how much money you could save by getting a rail card. Just fill in the journey search bot to your left. Remember to select the right type of rail card you will be using on the next page.
Save money your rail journey. Get a rail journey card today!


Cheap UK Rail Ticket Tips, Queries & Reviews: Have Your Say!
Do you have a great story, tip, or experience about getting cheap UK rail tickets? Or do you have a query about the best way you can save on a proposed UK train journey? We would love to hear from you!

Please feel free to respond to comments or questions asked by other users below.
---
---
Return to Home Page from "Railcard"