International Rail Travel:
The Only Way to Go!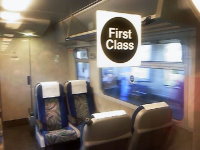 International rail travel via any of Europe high speed train services is cheap, fast and green. You can travel across all six continents via international railway lines running from Australia up the the Mediterranean.
From as little as £10, you can travel within and between continents. With excellent rail services from London through Paris to Italy, Belgium, Spain, Netherlands, afar into the inter-lands of Europe for example, you can travel these and many other countries in style.
If you are looking to travel individual countries across the six continents, you can get a rail pass to cover the whole of your international rail travel.
With the Global Rail Pass, you can journey through the USA, Canada, Japan, New Zealand and Australia.
There are even specialized trains to take you through some breath taking mountains and stretches of desert lands. No wonder international rail travel is increasingly popular amongst young and old with the adventure spirit.
The InterRail Global Pass permits unlimited rail travel in all 30 European countries involved in the scheme. Just Imagine! These countries include:
Austria
Belgium
Bosnia-Herzegovina
Bulgaria
Croatia
Czech Republic
Denmark
Finland
France
Germany
Great Britain
Greece
Hungary
Italy
Luxembourg
Montenegro
Netherlands
Norway
Poland
Portugal
Republic of Ireland
FYR Macedonia
Romania
Serbia
Slovakia
Slovenia
Spain
Switzerland
Sweden
Turkey
There couldn't be a better way of traveling through Europe and viewing their dramatically changing scenery as you zoom through cities to cities across on your train.
Whenever people think about traveling to Europe they usually don't think about international rail travel. Instead, they think about going by car and ferry and then negotiating driving on the right hand side of the road, the stress of driving a left hand drive car on the continent, or worse, hiring a car there and finding that the whole car feels completely alien.
Well why not consider another, more laid back but highly efficient and relatively environmentally friendly means of travel: Train travel.
Why Travel by Train?
Traveling internationally by train is fun because you can simply sit back, in very clean and nice accommodations, and watch the country that you are in unfold before your very eyes. You feel as if you are really getting to know it, not just passing through.
You can meet people from the country you're in. Often, you'll find that people will talk and open up in a way that they don't when you meet them outside the train. It is as if rail travel brings people closer together.
Rail travel doesn't have the same bad environmental reputation that air travel and, indeed, travel by car have. So, if you are keen to reduce your carbon footprint, then consider rail travel.
It is a much more romantic way of traveling that seems to make people more responsive to each other. You can simply unwind and relax into the journey. No queues for immigration, or customs. No having to wait around and hope that your luggage turns up (eventually).

All that stress is taken away, leaving you simply to relax. You get to spend some quality time with your loved ones or friends, instead of all the stress involved in flying.

International travel by train is usually fast and extremely affordable, and instead of arriving at the airport and then having to catch a train into the city center, you are there already!
So with all these reasons to enjoy international rail travel, there really is no excuse for traveling any other way.
International Train Tickets
You can get your international train tickets online here. Before paying for the tickets, plan your trip correctly. Enter your preferred destination into the box below and book your ticket to Europe and beyond.
Know that you can also get a pass that will take you through all or a few of the Countries in Europe in one single go. You can buy an InterRail pass ticket to take you to Holland for example, through England, Belgium and France.
You do not have to buy different passes for each leg of your journey. Just click on the "select type" button from the search box above and pick the InterRail option. With this you can enjoy the freedom of extensive travel across up to 29 countries in Europe and North Africa for one all-in price that offers incredible value for money. What a great way to enjoy international rail travel at great savings!



International Rail Travel : Your Comments & Experiences
Do you have a great story or comments about international rail travel? Are you thinking of boarding Rail Europe off to Italy or Belgium, France or even The Netherlands? Share it!
What Other Visitors Have Said
Click below to see contributions from other visitors to this page...

Travel Pass Through Europe Not rated yet
I am looking for a pass that will take me through England, Belgium and France. Is there such a thing or will I have to buy different passes for each leg …
Return to Home Page from "International Rail Travel"
---
Home London HotelCheap London Hotel UK Hotels Europe Hotel Leeds Hotel 3-Day London Pass Cheap UK Rail Tickets Eurostar Bookings International rail Travel National Express National Express Holidays Oyster Card Rail Cards Ukrailways Photos Train Times Travelodge Hotel Contact Us
---
│Contact Us│Professional Exams Info │Free Ringtones│African Foods Delivered to You │
│ Boating and Winter Sports│Online Doctor for You│Get UK Jobs││Bethelgroups