Rail Holidays
Luxury and Romance Combined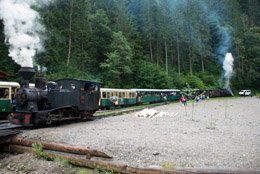 Rail holidays and railway breaks. The romance of the railways is perfectly captured in any of the holidays by train that are on offer these days.
A great alternative to the standard holiday fare, taking a break on a luxurious train and visiting exciting and beautiful places along the way is a great way of enjoying yourself. If you've not been on a railway holidays before. Think twice. You may be thrilled beyond belief what you've thus far missed. You can change that today. Book your Rail holiday Journeys here now.
Since the dawn of the railways there has been a sense of adventure associated with travel by rail, and with railways connecting most major cities there is much to be said for the relaxing and stress-free way you can holiday while travelling around by train. Whether you are a rail enthusiast or not the attraction will be the same, for this is a great choice for a well-earned break.
UK Rail Holidays
One of the most popular types of holidays by rail in the UK is the steam heritage break.
These are journeys to and from many different destinations throughout the country that are hauled by vintage steam engines, and they attract railway enthusiasts and families alike. You can choose from single day journeys that take you from one city to another and back, or many similar breaks that take place across a number of days and involve sleeping over at hotels.
Such short breaks or railway holidays in the UK are very popular in the holiday periods as every schoolboy loves a steam train, so it is important to book in advance to be sure of your place. Most of the single day journeys will involve meals and regular stops at famous stations across the country. One of the most popular traverses the Settle-Carlisle railway, considered one of the most scenic routes in the country, and others visit wonderful cities such as London – with its famous stations – York and Edinburgh, in Scotland.
Other well known rail tours in England, indeed the most popular and high in demand UK rail holiday destinations include:
Norwich & Norfolk Rail Tour
Yorkshire & Northumberland Rail holiday Tour
Isle of Man Luxury Rail Tour
Canterbury & the Railways of Kent Tour
Devon & Cornish Rivieras
Torquay & the Eden Project
The English Lake District Rail Journey & Tours
York, Dales & Moors Vintage Steam Railways Tours
The Somerset & the Torbay Express Three Railway Excursions
The Manchester Railway Tours
Who said the UK is not one of the most exciting places for luxury European train holidays? You can book any of the above great rail journeys here.
European Rail Holidays
With the advent of the channel tunnel the opportunity to visit Europe by train is there for all of us. The stunning engineering feat that involved building a tunnel between the UK and France has opened the way for convenient and affordable trips to the continent, and the journey by Eurostar train is an adventure in itself.
Europe offers a wide variety of exciting and interesting rail holiday opportunities and the railway network links most countries. By Eurostar it is possible to reach Brussels, in Belgium, and with connecting services in major cities in France you can travel on to Germany, Italy, Switzerland and many more countries. There are organized itineraries that are worth checking out, and these include all connecting trains and hotels.
Further north the railway enthusiast would be well advised to visit Norway, where there are some of the most spectacular railways in the world. From the west-coast port of Bergen you can take a train that crosses the fjords and mountains on its way to Oslo, the capital, and it is a truly breathtaking journey that is best done by taking one of the early morning trains for perfect views of the glorious scenery.
Rail holidays are an interesting alternative to many others, with no driving and no stress involved, and are enjoyed by many enthusiasts, families and couples looking for a romantic break every year.
Worldwide Rail Holidays
The excitement of a holiday on the railways is best described as a journey into the unknown. Though many such rail holidays are escorted and run to set itineraries, there is always something new and exciting to see and do along the way.
A quick search online will tell you that there are opportunities for journeys in the UK, across Europe, in the USA and in such exotic, unknown and ripe for exploration countries as India. Imagine the thrill of travelling across such a country in luxurious style, all the while admiring the scenery as you glide by, and being able to explore each destination in your own time. Think of it as a cruise, but on land.
With excellent dining facilities on board and comfortable sleeping compartments there is something for everyone, and the choice of destinations and locations is bewildering.
You can book your railway holiday to India, Canada, The USA or indeed to any worldwide destination with the Great Rail Journey company online here. Great Rail Journeys was founded over 30 years ago and is the UK's leading operator of holidays by rail with over 200 individual tours available across over 40 countries within Europe, Africa, America, Canada, the Far East, Russia, India & Australasia.

Rail Holidays Reviews: Have Your Say
Have you been on a train journey holidays before? What was your experience like? Would you recommend it? Which places did you go to? Do you have a great story about this, or just a query on railway holidays? Share your thoughts here. Have your say!
Return to Home Page from "Rail Holidays"