Oyster Card
The Cheapest Way to Travel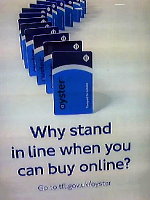 An Oyster Card is the cheapest and easiest way that you can use public transport in London. A single cash journey via the London Underground costs £4.00 while the same journey made using an Oyster Card would cost £1.50; a whooping 38% savings!
In the same vein, a single Bus journey in London costs £2.00, while with this same journey with Oyster would cost just 90pence!
What are you waiting for? Get a card today!
---
The wisdom of lining your wallet with one of this card is validated by the fact that some 80% of all journeys made on services that are run by the Transport for London organization, are made using an Oyster Card.
What is the Oyster Scheme?
The scheme is extremely straightforward. You can put money onto a card and then when you use it, money is deducted from your card. So when you arrive at a tube station, you swipe your card and money for your journey is deducted when you also swipe the card when you leave your destination station.
The first benefit of the scheme is the fact that it is a pre-paid way of traveling. You don't have to worry about getting to a ticket machine, or having enough ready cash to get home or to your hotel. All you need to do is swipe your card and it is all done electronically.
Another main benefit is that people tend to feel more secure and safer using the card, because they don't have to take out their wallet or purse. They can just keep the card separate and take it out when required.
Are you a student? Do travel a lot in and around London? Then save even more by getting a Student Oyster Card . The student oyster affords you a further 30% savings on your journey, compared to the standard adult rate.
Where to Get Them
The cards are readily available from newsagents, any Underground or Overground ticket office, there are also some vending machines which sell them. You can also buy online or from a Travel Information Centre.
You only need to provide a photo if you are someone who is eligible for free travel. This is done to prevent the card being fraudulently used. No other cards require a photo.
If you don't 'load up' the card with a weekly (or longer) travel ticket, then there is a fee of £3 taken, but if you do load it with a weekly ticket, then this will be refunded.
Do not forget to look out for mouth watering Oyster deals and special offers from banks, 2 for 1 tickets and even grab below market price pre-paid cards sometimes featuring online. Check for such offers and for oyster card wallet or holder.
Whatever you do, if you travel frequently in and around London, get an Oyster card. Register Online today for one!
Cheap UK Rail Ticket Tips, Queries & Reviews: Have Your Say!
Do you have a great story, tip, or experience about getting cheap UK rail tickets? Or do you have a query about the best way you can save on a proposed UK train journey? We would love to hear from you!

Please feel free to respond to comments or questions asked by other users below.
---
HomeLondon HotelCheap London Hotel UK HotelsEurope Hotel Leeds Hotel 3-Day London Pass Cheap UK Rail Tickets Eurostar Bookings International rail Travel National Express National Express Holidays Oyster Card Rail CardsUkrailways PhotosTrain TimesContact Us
---