MegaTrain UK
£1Train Tickets Across The UK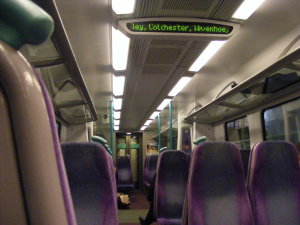 Megatrain is a low cost UK train travel service run by the popular Stagecoach group of companies to provide what is easily the cheapest train fares to hundreds of destinations across the UK.
Book in advance and pay £1 train ticket plus a booking fee of 50 pence.
No hidden fees or any other extras! It even gets more interesting: you travel in the same "normal" trains with other passengers who might have paid through the nose to make the same journey.
Are you a student? Do you have a valid NUS Extra Card? You could even get another 10% off the price of your train travel.
Megatrain is perhaps best known for their Megabus campaign. They own both companies. They provide the cheapest uk rail tickets you can get across regular train networks like Virgin Trains, East Midland Trains, and South West Trains to destinations like Exeter, Baths, Portsmouth, Birmingham, Salisbury, and many others to London at off peak times.
Megatrain Routes & Destinations
Since Megatrain does not cover all UK trains destinations, it would be handy to note the most popular and frequently plied routes and destinations.
You can travel for the same £1.00 plus a 50p booking fee fare to you proposed destination on the Megabus if your proposed megatrain route is not plied by this train services.
Frequently covered routes include:
London (London Waterloo) To Axminster (Axminster Train Station)
You can get up to 4 daily journeys on this route, starting off from London Waterloo Station at 08:20HRS, 09:20HRS, 12:20HRS, and 14:20 trains on the South West Trains. Journey time is around 2hrs 45mins. If you book on time up to 6 weeks in advance, you pay £1.00 plus booking fee of 50p, otherwise you could be paying up to £20 for late bookings.
London to Bath on Mega £1 Train tickets (London Waterloo to Bath Spa Station)
There the 09:07HRS and 16:07HRS trains from Bath to London on this route, and 09:20HRS and 12:20HRS London to Bath services on this route too, all journeys on the South West Trains. Ticket starts from £1 if booked early.
Birmingham to Carlisle
This is a rather infrequent route. Check to see if you can find this Mega Cheap train ticket for this route for your journey well in advance and close to the time of travel.
Birmingham to Edinburgh
Another infrequent route, but check available for your time and date of travel.
Birmingham to Glasgow
This route is plied by both Megatrains Uk and Megabus UK. The train service is quite irregular, and you are more likely to get on the Megabus for this route, from The Priory Queensway Stop PC Station in Birmingham to the Buchanan Bus Station in Glasgow Scotland. This journey takes about 5 hours on the bus.
Birmingham to London
A truly popular Mega Train UK route. You have a choice of taking a the Megabus or train. With up to 6 daily journeys on the high speed Virgin Trains, and having to pay £1 train ticket from Birmingham to London, you can really not ask for a lot more!
Preston to Birmingham (Preston Train Station to Birmingham New Street Train Station
Yes. You can travel on this low cost train services on this route and pay £1 train ticket from Preston Train Station to Birmingham New Street Station. Travel is on either the Scottish City Link Train services or Virgin Trains. Journey time 1hour 40 minutes to 2 hours.
There are of course many other destinations you can get the Mega Train to in the UK.
You can book your Megatrain tickets online here and save money on cost of travelling in the UK.
Megabus: Have Your Say!
Have you travelled on the Megabus before? Are you intending to try out this no-frills bus service and have a question or comment? Or you just have a great story about Mega Coach? Share it!

Help improve services on this great resource for budget travelling across the UK.
Related Links
Mega Train RoutesTo London
£1 Train Tickets
Travel On Megabus: The Cheapest Coach Fare In The UK
Cheapest Coach Tickets UK
Return To Home Page