Eurostar Booking
Eurostar Tickets and Train Times

Get your Eurostar booking done online here. See train times and get your Eurostar tickets from London to Paris, Brussels, Amsterdam to Paris or to anywhere else in Europe.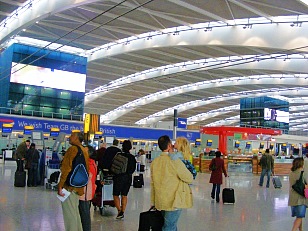 Explore Europe the pleasant way and enjoy it's breath taking scenery aboard Europe's number one high-speed railway from £55 return.
Are you looking for a Eurostar booking to Calais, Paris, Brussels, Lille, Amsterdam or a quick Eurostar city break for two or more?
You can book your entire journey online here.
Eurostar provide a superb London to Paris train travel under the Euro-Channel in 2 hours 15 minutes. This high speed train line has been voted the best way to travel from London to Paris or London to Brussels. More passengers are carried by Eurostar every year across the channel than by all the airlines combined, travelling the same route!
It is a more carbon efficient mode of travelling too. Plan and book your European adventure here and look out for discounted tickets on offer from time to time.

Eurostar Booking: Get Tickets and Train Times

Although traveling by Eurostar is a really easy process, there are some issues to consider before you finalize a booking.
First of all, you need to decide when you want to travel and ensure that you take into account any traveling time to the Eurostar departure station. This should be done for both your outward and return journey, so that if you are traveling to the Eurostar station by train, you need to make sure that the time you are traveling with Eurostar will fit in with other travel arrangements.
Make sure that you tie in accommodations when you book. It may be less expensive to book a journey on the train and then book a hotel separately if you are happy to stay in any other hotel (i.e not a Eurostar hotel), but if you don't want the hassle of finding your own hotel, then you can book a 'package deal'. If you choose to stay in a Eurostar hotel, you are guaranteed to save money by going for a hotel and Eurostar booking at the same time.
If you want to simply explore Europe and you are not sure when you want to come back, then it may be helpful to book an 'open return', sometimes referred to as a flexible return. This will give you the flexibility you need to be able to ensure that you don't tie yourself down. It does cost a little more, but you pay for what you get, and in this case that is flexibility.
Check out the details of any cancellation policy. In other words, how much refund will you get if you have to cancel? Things can and do go wrong and sometimes, you may find that you are simply unable to travel. Before finalizing your booking, you may want to consider taking out some kind of travel insurance, just to make sure you don't get caught out.
Only after you have considered all these issues and finalized your travel plans will you be ready to make your Eurostar booking! For Eurostar train times and travel information, please go to the Eurostar Website here.
Eurostar To Disneyland Paris

Book a family holiday to Disneyland Paris on Eurostar. It is fast. It is comfortable. It is value for money. You can choose to depart from London Waterloo train station or Ashford station for your trip, choosing destination as Marne la Vallee (Disneyland).
It's easy to plan your Disneyland trip without all the hassles that comes with flying on budget airlines. You are required to pre-book and reserve your seats on Eurostar and such reservation price are are included in the ticket price. Remember that you can also use a railpass to travel travel on Eurostar.

To save on your European trip, make sure you book well in advance. This can be done up to 180 days (6 months!) ahead. For families, watch out that you pay only for adults and children above four years of age. Kids under 4 can travel free on Eurostar, as long as they can sit on the lap of an accompanying adult (one infant per adult traveler).
Cheap Ways To Travel Europe | Have A Great Story About This Topic?
Have you been on a trip to Europe before or contemplating one? Do you have a great story or experience on "Cheap ways to travel Europe"? Share it!