Rail Europe Tickets:
It has Never been Easier to Travel to Europe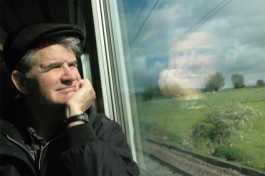 Get Rail Europe tickets for high speed rail travel in style to over 30 countries in Europe...whether for a weekend break to Paris, a fortnight get away to Venice, a month backpacking across Europe or a skiing trip to the heart of the French Alps.
From Eurostar in London, to traveling with TGV in France, Elipsos to Spain, Thalys to Benelux, Artesia to Italy and Lyria to take you to Switzerland, get your ticket to the beautiful in-lands of Europe.
Book your cheap Rail Europe tickets here and let your European tour begin. Travel by day or night and choose the right type of rail Europe services to suit you.
---
---
Available Services on Rail Europe
Before buying your Rail Europe tickets, be sure of the rail service to your proposed destination.
If you are in doubt, just click on your departure point and select your destination. The available rail services will be displaced. Choose the one that suits your needs most.
If you are traveling from London to Barcelona on train for example, an overnight service may be best for you, making sure you have a good night rest and get to Barcelona fresh in the morning.
We have provided further information on each of the routes and services available to give you the power to make an informed decision when buying your Rail Europe tickets. They include:
Rail Europe Tickets: Consider All Options
In some ways it is very easy to travel to Europe, since there are so many great options now available compared to just a few years ago. We almost seem spoiled, simply because there are so many ways to get there. A prime example of how easy it can be is .
Air Travel has been a really popular way to travel to the continent, but recent price hikes have seen the cost of fuel and then fares rise, so many people are now looking at different ways to get around. These include:
Rail travel. It is possible to travel by rail on the 'boat train', which leaves from Liverpool Street in London and then takes you to Harwich, and from there you can catch the ferry through to the Hook of Holland and then you get on another train to Amsterdam, and from there, the whole of Europe really is at your fingertips.
Eurostar also takes you to the continent by rail, leaving from St. Pancras and traveling on to Lille, Brussels or Paris. All done in a fraction of the time you'd expect, with journey times from London to Paris now down to 2 hours and 15 minutes: Wow!
Coach travel is also now a really serious contender for people who want to travel economically, but who don't want to forgo any luxury. Costs are as low as £15 to Paris from the UK, so if money is tight in these credit crunch times, then coach travel might be considered.
Traveling by car. You can take your own car abroad for very little, and as travel companies are starting to feel the effects of people being less well off, prices are extremely keen. Many people prefer to travel with their own car. They feel they have greater flexibility. If this is a serious issue for you, you could catch a train or coach to the continent and then hire a car for the rest of your stay. That way, you get flexibility, but also a very pleasant journey over to your destination.
With all these different and cost effective ways to travel to Europe, there really is no need to stay home! Why not arrange for your trip right now, and get your Cheap Rail Europe tickets. Your pass to the beautiful continent of Europe!

Cheap Ways To Travel Europe | Have A Great Story About This Topic?
Have you been on a trip to Europe before or contemplating one? Do you have a great story or experience on "Cheap ways to travel Europe"? Share it!
---
Home London Hotel Cheap London Hotel UK Hotels Europe Hotel Leeds Hotel 3-Day London Pass Cheap UK Rail Tickets Eurostar Bookings International rail Travel National Express National Express Holidays Oyster Card Rail Cards Ukrailways Photos Train Times Travel Lodge Hotels Contact Us
---
│Contact Us│Professional Exams Info │Free Ringtones│African Foods Delivered to You │
│ Boating and Winter Sports│Online Doctor for You│Get UK Jobs││Bethelgroups