National Express:
Coach Travel to Fit Your Budget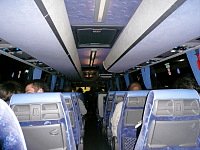 National Express Group is one of the largest transport companies in the UK. They rail, bus, tram and coach transportation across the UK. Most people associate National Express with the popular coach services in the UK. No more. They run trains too. .
---
National Express Coach travel is the smartest way to travel across the UK and in deed the whole of Europe now. It is safe. It is smooth and saves you valuable money. From £5.00, you can travel from London to Manchester, and even to far way Scotland if you buy your ticket on time.
National Express offer services to an amazing 356 different places, meaning you can travel to a different destination almost every day of the year, and for the 9 days when you are not going by their coaches, you could take an air holiday.
---
---
The key thing to remember about coach travel is that there are
lots of advantages, such as:
No stress of driving and being hassled on the motorway, you simply sit back and enjoy the facilities.
If you are of pensionable age, then you can get some fantastic deals on coach travel, with fares starting at exceptionally low prices.
If you are into reducing your carbon footprint, then you may be interested to learn that traveling by coach instead of using your car, dramatically reduces carbon emissions, so it really is a green way to travel.
There are lots of facilities on board each coach and if you have a disability, don't worry, because Express coaches also have specialist facilities, enabling you to enjoy coach travel as well, without having to worry about there being inadequate facilities for you.
Seats are comfortable and Express coaches are all fitted with toilets, so you don't have to wait until the coach stops, before you can go to the toilet; this is much more convenient than if you are in your own car.
Traveling by Express Coach is also exceptionally good value for money, costing significantly less than the rail network and with fuel prices so high, it is miles cheaper than using your own car.
Travel with National Express also saves wear and tear on your car and with high mileage your car will be worth less, so keep the mileage low by letting the coach take the strain, not your car!
If you are going on holiday, taking a Express coach to the airport will not only save you money on parking, but it will also give you peace of mind, knowing that your car is safe at home when you are away. Now that can be worth a lot of money! Take a look at Coach Holidays for more information coach holidays

Return to Home Page from "National Express"

National Express Travel: Have Your Say
Have a comment or question about travelling with National Express for everyday journeys or on the National Express Holiday package? Share it!
---
HomeLondon HotelCheap London Hotel UK HotelsEurope Hotel London to Chelmsford by TrainLeeds Hotel 3-Day London Pass Cheap UK Rail Tickets Eurostar Bookings International rail Travel National Express National Express Holidays National Express Coach Tickets Oyster Card Rail CardsUkrailways PhotosTrain TimesContact Us
---
│Contact Us│Professional Exams Info │Free Ringtones│African Foods Delivered to You │
│ Boating and Winter Sports│Online Doctor for You│Get UK Jobs││Acne GP