Megabus UK Contact Details

Megabus UK contact telephone number, email and correspondence address are:  +44 141 352 4444 (8am - 8pm);  enquiries@megabus.com  and Megabus UK, Buchanan Bus Station Killermont St Glasgow G2 3NW. Reach Megabus UK now for any problem, enquiry or complaints.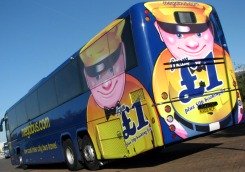 Megabus is committed to providing the best train, bus and coach services to its millions of passengers in the UK and beyond.
But sometimes, things do go wrong. If you have any Megabus problem or complaint, please do feel free to contact them now. Be rest assured that they would do their very best to put things right and make you happy.
Megabus UK operates from a number of offices across the United Kingdom, but are mainly based in Edinburgh, Scotland.  See how you can contact them below.

Megabus UK Contact Options

You may be looking for Megabus UK contact information for a number of reasons. Whether it is for a general enquiry or to clarify an issue with the ticket you purchased or perhaps to register a dissatisfaction, the following are how you can contact Megabus:
Telephone. Megabus Telephone number for Customer services issues is - +44 141 352 4444. Phone lines are open from 08:00 till 20:00 Mondays to Friday. Please note that if you chose to contact Megabus UK by phone, Calls cost 10p per minute from a BT landline, calls from mobiles and some other networks may be higher. Local or international call charges may apply depending on location.

Email. You can send Megabus an email on enquiries@megabus.com

. This is the best way to contact Megabus for complaints. Any such complaint would be recorded, prioritized,

and responded to within 72 hours. Please put in as much information as possible in your mail as well as evidence, where applicable. 
Post. You can write and send a traditional mail to Megabus at
                              Customer Services
                              megabus.com/megatrain.com
                              Buchanan Bus Station
                              Killermont St
                              Glasgow
                              G2 3NW.
If the reason for your call or seeking the contact information of Megabus UK is for an answer to a specific question, why not go through the Megabus FAQ section first and see if your query might already have been answered.
The 10 most common queries frequently asked include:
How do I book a journey?
Can I get a refund if I cancel my journey?
Where does megabus.com operate to and from?
Can I take a bicycle with me on this service?
Do children pay on megabus.com?
Can you accommodate passengers with disabilities?
How do I use my Tesco Clubcard tokens for megabus.com journeys?
How do I make a complaint?
What is your luggage policy?
Can I take my dog on board the bus?
If you have looking for answer to any of the above or more, please go to the Megabus Frequent Asked Questions section here.
Megabus And Megatrain: Have Your Say!
Have you travelled on the Megabus or Megatrain before?

Are you intending to try out this no-frills bus, train or ferry service and have a question or comment? Or you just have a great story about Mega Coach? Share it!

Help improve services on this great resource for budget travelling across the UK.
What Other Visitors Have Said
Click below to see contributions from other visitors to this page...

Megatrain Pre booking inquiry Not rated yet
Hello, I am about to book a round trip from Bristol Airport to Exeter. I have a pre booking enquiry on megabus or megatrain. One never knows how …
megabus telephone details for complaints Not rated yet
I have a complaint about the driver who was on the M1 on Saturday (18.5.19) at about 12.30 midday he was driving in a very dangerous manner. As he …
Return To Home Page From Mega Bus UK Contact Information Page