Chiltern Railways
High Wycombe To London
Get train times and cheap tickets on the Chiltern Railways High Wycombe to London Marylebone station.  High Wycombe to London on train would take about 35 minutes on the fast train and about 55 minutes on the slow train. You will be travelling on the Chiltern Railways, voted one of the very best railways in the UK.  
Are you looking for trains from High Wycombe to London Marylebone station? The Chiltern Railways line, voted one of the most punctual and best railway lines in the UK provides services along this route.
You will be starting your journey from the High Wycombe train station located on Amersham Hill, High Wycombe, HP13 6NN.
The first train leaves the station at about 05:32 Hours every morning. This is a slow train. It makes stops at Beaconsfield, Seer Green, Gerrard Cross, Denham, West Ruislip, South Ruislip, Northolt Park, Wembly Statdium and finally terminates at London Marylebone station. This journey takes about 55 minutes.
If you are looking to take a faster train, the 07:55 train to London takes about 32 minutes. It only stops at one or two stations, skipping every other one along the way, arriving at 08:27, well in time for work, if you work around the Marylebone area.
Chiltern Railways High Wycombe Train Times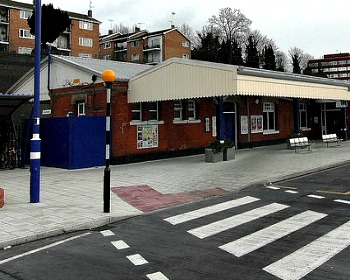 High Wycombe is a medium sized town with apopulation of just over 120,000 people. It is a mixed industrial and market town, though with many residents commuting to work in London and towns along that stretch of rail.

This rail route is one of the busiest in South Buckinghamshire. You must book your ticket in advance to get good deals and give yourself plenty of travel time.
If you are looking for train times and tickets from Chiltern Railways High Wycombe to London Marylebone, you can get that as well as book your tickets here at TheTrainline.com website or directly from the Chiltern Railways co website.
A typical week day morning peak time schedule on the Chiltern Main Line would look like this:
Depart


05:39

High Wycombe

05:32

High Wycombe
05:58 High Wycombe 
06:04 High Wycombe
06:10 High Wycombe
06:22 High Wycombe
06:41 High Wycombe
06:47 High Wycombe
06:54 High Wycombe
07:08 High Wycombe
07:13 High Wycombe
07:25 High Wycombe
07:32 High Wycombe
07:42 High Wycombe
07:55 High Wycombe
08:10 High Wycombe
08:16 High Wycombe
08:30 High Wycombe
08:38 High Wycombe
08:49 High Wycombe
08:54 High Wycombe
09:26 High Wycombe
09:12 High Wycombe


Arrive    Duration (minutes)


06:22 London Marylebone 43m

06:29 London Marylebone 57m

06:34 London Marylebone 36m

06:45 London Marylebone 41m

06:59 London Marylebone 49m

07:03 London Marylebone 41m

07:25 London Marylebone 44m

07:28 London Marylebone 41m

07:32 London Marylebone 38m

07:49 London Marylebone 41m

07:59 London Marylebone 46m

08:02 London Marylebone 37m

08:19 London Marylebone 47m

08:22 London Marylebone 40m

08:27 London Marylebone 32m

08:56 London Marylebone 46m

08:59 London Marylebone 43m

09:05 London Marylebone 35m

09:24 London Marylebone 46m

09:28 London Marylebone 39m

09:31 London Marylebone 37m

09:58 London Marylebone 32m

09:58 London Marylebone 46m

Ticket Types To Save Money On Train Fares

If you are looking to travel on the Chiltern Railways High Wycombe Main line to London Marylebone Station, you could be alert to saving on your train fares by picking the right ticket for your journey.
There are four types of tickets:
Super Off Peak Ticket. The super off peak ticket on the Chiltern Railways is a type of Off Peak ticket valid for travel in trains reaching London Marylebone station after 11:30 in the morning during week days. It is also valid on trains leaving London before 06:30, or after 09:00 till 16:00 or after 19:00. You can get this to buy for your journey on Chiltern railways High Wycombe to London Marylebone or on the reverse journey. This is the cheapest ticket you can get, saving you many times more than halve your standard ticket price.

Off Peak Ticket. Off Peak tickets are less restrictive than the Super Off peak and are a little more expensive. It is valid for trains arriving London Marylebone station after 10:00.

Advanced Ticket. This is a standard travel ticket, bought from 12 weeks up to the night before travel online or up to 6pm at any of the Chiltern Railways station ticketing office. You could save an average of 43% buying this ticket either directly from Chiltern Railways or at TheTrainline.com.
Anytime Ticket. This is the standard ticket bought anytime and has no restrictions whatsoever other than that it is valid for return travel on any train on this route for up to one calendar month from the date of purchase indicated on the ticket. It is a very flexible type of ticket but the most expensive. 
If you are not completely sure of the validity of your ticket type, please use the train ticket and times planner on the site to check this out. It is always best to do so to avoid embarrassing query from the ticketing operatives on the train and worse still to get fines for something that is not really deliberate.

UK Train Operating Companies: Have Your Say!
Which train operating company do you think is the best in your locality or even Nationally? Is there any of these Train Operating Companies you have a special thoughts or comment on? Have your say. Share your thoughts here and let's help improve the services on our railway system!
Return To Chiltern Railways Page From Chiltern Railways High Wycombe Page