Megatrain To London
The Cheapest Train Tickets To London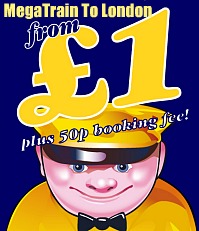 Megatrain to London offers by far the cheapest train tickets to London if you book in advance and pay only £1 train ticket to London plus a booking fee of 50 pence.
With this you are able to get a comfortable ride on top UK trains like the high speed Virgin Trains, South West Trains, Scottish City Line, and the East Midland trains to popular destinations like Birmingham to London, Bath to London, Preston to London and more.
This train service is a low cost train service run by Stagecoach group, owners of the Megabus UK. They provide you seats on selected regular UK train services during off peak times on "off peak destinations".
If you are a Student and have a valid NUS Card (NUS Extra Card), you could save another 10% on the cost of your journey.
Because this service does not cover the whole of the UK, you have to check if your intended route is covered.
Megatrain To London Routes
Want to know where you can travel from to London on Megatrain? here are the most popular Megatrain routes to London:
Axminster To London
Bath To London
Birmingham To London
Bournemouth To London
Bradford To London
Bristol To London
Castleford To London
Chesterfield To London
Coventry To London
Derby To London
Doncaster To London
Exeter To London
Halifax To London
Harrogate To London
Havant To London
Honiton To London
Huddersfield To London
Hull To London
Leicester To London
Liverpool To London
Loughborough To London
Northingham To London
Runcom To London
Salisbury To London
Scunthorpe To London
Sheffield To London
Southampton To London
Stafford To London
Weymouth To London
Yeovil To London
York To London
You can buy your Mega train to London Ticket from the Megatrain website and save money on the cost of your travel.
Please note that these are only routes you could get to on the Mega Cheap Train. There are other routes are are plied by the Megabus to London. If your preferred destination is not shown here, you can check if you can get on the Megabus to London at megatrain.com.
MegaTrains UK: Have Your Say. Share Your Experience. Ask Questions!
Have you used the Mega £1 Train services before? What is your experience with the services? Would you recommend it to others? How about the booking and ticketing system? Do you have a great story about Megatrains or just want to ask a question? Share your thoughts here. Have your say!
Related Link
London Pass
£1 Train Tickets To London
Megabus Tickets
Book Cheap London Hotel
Return To HomePage From Megatrain To London Page