East Midlands Trains
Get Train Times And Cheap Train Tickets
Get train times and cheap train tickets on the East Midlands Trains long distance services to or from London, or the regional services linking the towns of and cities of East Midlands and Northern England. Find great deals and many attractive discounted journeys for greater value.
East Midlands Trains manages a number of routes on railways across the Midlands, with services to and from Leicester and Lincoln, Sheffield, Derby and Nottingham making up the bulk of the company's journeys.
With a catchment area that includes many heavily populated areas, it one of the top UK railway companies well known for punctuality and has a reputation for excellent service.
From all the main stations in the Midlands passengers can catch express services that terminate at London St Pancras, making East Midlands Trains one of the primary services covering the Eurostar traffic from the North. The service also includes late night trains from London back to the major stations, allowing tourists a longer day to explore the capital.
East Midlands Trains Routes And Train Times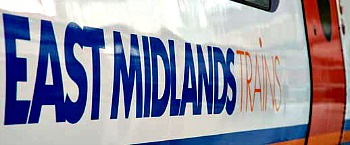 You can get up to date train times and route planner as well as top train ticket deals directly here from the East Midlands Trains Website.
Taking Nottingham as a central point on the network passengers have a wide choice of destinations. Eastwards the line runs across the Pennines to the east coast, with a terminus at the popular and historic seaside town o Cleethorpes, taking in popular destinations such as Market Rasen and Grimsby on the way. A second eastern route runs slightly south and terminates at Skegness, while it is also possible to use the East Midlands Trains route to reach the tourist delight that is Norwich.
Heading west from Nottingham takes you to a number of popular destinations including Derby, then onwards to Matlock - a wonderful spa town in the midst of the Peak District - or alternatively to the railway Mecca that is Crewe in Cheshire, with many more interesting destinations in between.
The North and South Routes
East Midlands Trains serves London admirably with a range of trains to St Pancras, and this route is popular with tourists flying out of East Midlands and Luton Airports, both of which are directly served by the line. There are many different stops along the London route and it is a very popular one with visitors to the capital from the North.
Heading North from Nottingham takes passengers through the beautiful Peak District, with trains passing through historic Chesterfield, home of the church with the twisted spire, en route to Sheffield, a beautiful city that boasts a rich history.
Further north and the line passes through the gorgeous Derbyshire villages of Edale and Chinley as it traverses some of the most spectacular railway scenery in the country, and further on to Stockport whose spectacular Victorian brick built railway viaduct remains a magnificent example of rail engineering from the golden age.
Manchester Piccadilly and a range of stations between there and Liverpool Lime Street are all served by a number of trains each day. There are limited services on this train route from Sheffield to York, Leeds and as far East as the wonderful seaside resort of Scarborough, a popular destination for families looking for a day on the beach.
Getting Cheap Tickets On East Midlands Rail Routes

The East Midland Trains website  offers many ways of booking cheap rail travel and is not confined to services by the operator.
By booking in advance passengers can find excellent deals on services with this operator and others, and the savings can be quite considerable. The website booking service also includes a 'Best Fare Finder' which enables users to search for the best possible deal. By inputting the journey details all possible fares will be explored, and the best outcome offered to the passenger.

Users can also subscribe to email and SMS messages detailing special offers, and there are possible savings for groups. There are plenty of resources for searching for cheap deals with East Midland Trains, and the website is easy to use and well laid out. With safe and secure online booking available this is a convenient method of finding cheap rail travel from the Midlands to most parts of the country. It is certainly a top choice on the UK railway companies list of operators.

UK Train Operating Companies: Have Your Say!
Which train operating company do you think is the best in your locality or even Nationally? Is there any of these Train Operating Companies you have a special thoughts or comment on? Have your say. Share your thoughts here and let's help improve the services on our railway system!