Arriva Trains Wales

Buy Cheap Train Tickets On Arriva Routes Here
Arriva Trains Wales offers a comprehensive choice of journeys across Wales with discounted fares on many routes. Join the over 2.2 billion users of Arriva train across Europe today as you get your train tickets here and journey through your choice Arriva trains route.

Arriva Trains Wales operates a wide range of routes across Wales, and is the most prominent provider of rail travel in the country.
With a choice of mainline routes and picturesque valley lines, plus two rail and sail routes, Arriva covers the main towns and cities, as well as some less populated areas, quit comprehensively.
The company runs many services from the main stations at Manchester. From there, in the North West of England, passengers can take journeys to a wide variety of destinations, among them the popular city of Shrewsbury and the holiday resort Llandudno. Offering further convenience is a service from Shrewsbury to Birmingham International, which has links with the nearby airport and central rail services.
---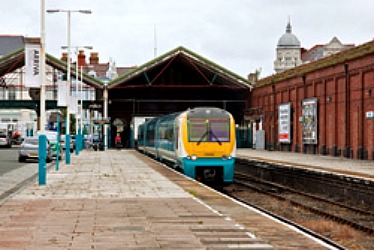 You can check train times and get cheap tickets on any Arriva train to your planned destination here in association with Thetrainline.
Alternatively, you can buy your ticket directly from the Arriva Trains website. Buying directly from this holder of a UK rail Franchise could be cheaper most times.
Are you looking to get the Arriva trains to a destination in your mind and wondering if they ply that route? See the most popular Arriva routes below.

Arriva Trains Wales: Routes and Destinations

The following are the most popular routes and destination of Arriva trains Wales:
Main Routes


Aberystwyth/Pwllheli to Shrewsbury
Cardiff to Cheltenham
Cardiff to Shrewsbury
Cardiff to Swansea
Chester to Crewe
Chester to Holyhead
Chester to Manchester
Llandudno to Blaenau Ffestiniog
Shrewsbury to Birmingham
Shrewsbury to Chester
Shrewsbury to Crewe/Manchester
Swansea to Shrewsbury (Heart of Wales)
Swansea/Carmarthen to Pembrokeshire
Wrexham to Bidston

Valleys & Cardiff Local Routes

Barry to Bridgend
Cardiff to Barry Island
Cardiff to Ebbw Vale
Cardiff to Maesteg
Cardiff to Penarth
Cardiff to Pontypridd
Cardiff to Rhymney
Cardiff Bay Pontypridd to Aberdare
Pontypridd to Merthyr Tydfil
Pontypridd to Treherbert
Radyr to Coryton (Cityline)
The city of Chester is linked by a main line to Crewe, one of the main connecting points for trains in the UK. The Welsh capital Cardiff is also linked to Shrewsbury and many other locations in Wales.
The Heart of Wales line is a popular route that begins at Swansea and ends at Shrewsbury, offering links to many different locations along the way, while the Cambrian line is a route from the hub at Shrewsbury to the holiday resorts of Pwllheli and Aberystwyth.
All in all, Arriva Trains has the main destinations covered, and links to the main English stations in good order.
The Valley Lines
As well as the major cities Arriva Trains also provide services on a number of picturesque routes known collectively as The Valley Lines.
The Ebbw Vale line offers some beautiful journeys through this picturesque area of the Welsh mainland, while Cardiff Bay Line is a route along the coast from Cardiff Central to the bay area.
These, and other Valley Lines, not only offer excellent tourist journeys but also provide vital links for people travelling between some of the less populated areas in Wales. Cardiff is a popular city with holidaymakers and is home to the now famous Millennium Stadium, while there are similar attractions in the towns of Swansea and Shrewsbury, each of which has an ancient and interesting history.
The north of Wales features some of the most popular tourist destinations – Rhyl and Abersoch are very popular – while the island of Anglesey is home to many important ancient monuments and is accessed by the beautiful Britannia Bridge, a stunning rail bridge built by Robert Stephenson in 1850 to span the Menai Strait.
As a popular tourist resort Wales has a lot to offer: the famous town of Porthmadog, where the legendary TV series The Prisoner was filmed, is very popular, as are Bala Lake, near the picturesque town of Mold, and the Pembrokeshire Coast are all highly recommended visitor attractions. The country is home to many of the UK's finest medieval castles, many of which are in locations accessible by Arriva Trains railway lines.
How To Get Cheap Tickets on Arriva Trains
UKrailways.com is committed to helping you get the cheapest train ticket possible.
If you are looking to travel on one of the Arriva routes, follow these top tips to get cheap tickets on Arriva trains:
Book Your Journey Early. You can book and buy your ticket as early as a year ahead and save massively on Arriva train tickets. If you go to work on any of the Arriva routes, buying your ticket way ahead (season tickets) could help you save. Major discounts are available the further ahead you book.
Travel Off Peak. If your journey can wait, travel after 09:30 in the morning when the rush hour is over. You will enjoy a ride on a less packed train as well as pay less for your journey.

Buy Tickets Directly. Many times, it is cheaper to buy your Arriva Trains Wales tickets directly. You can do so online at or by calling over the phone on 0870 9000 773
With so many destinations covered it is possible to reach all but the most inaccessible of resorts and destinations in Wales using Arriva Trains Wales routes and services.
Railway enthusiasts are greatly advised to visit the famous Ffestiniog railway where you can enjoy a breathtakingly spectacular trip from Porthmadog to the small town of Blaenau Ffestiniog high in the mountains.
Also do not forget to take a look at the many other heritage steam railways that utilize old routes in the Welsh valleys. The Ffestiniog railway is accessible by Arriva Trains Wales from on the Conwy Valley line.