Amazon Railway Books
From the birth of the railway systems in the 18th century down to our days, Amazon railway books provide an invaluable access to British railways history and design, past present and future. Get a selection of railways books here. We will be delighted to have your thoughts and reviews on any railway book from Amazon too.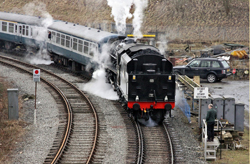 Whether you are a seasoned railway enthusiast looking for Bradshaw guide to railways in the days of Sherlock Holmes, or a curious railway investigator, the Amazon railways books collection is a sure place to dig into for railroad gems.
We bring you a selection of railway books from Amazon.co.uk. If you are based in the USA or Canada, you can follow the link here to explore your local Amazon railways books repertoire.

Top Amazon Railway Books

UKrailways.com in association with Amazon.co.uk, has carefully selected the top railway books for your enjoyment. This selection covers latest bestselling novels with the railway theme, children books and railway reference books.
Off course, if you have a specific railway book you are looking for, do not hesitate to search for it here at Amazon.co.uk by entering a kewyword or ISBN number. The top railway books we recommend for your enjoyment are:

1. Bradshaw's Handbook - A Facsimile of the Famous Guide
The very first of Amazon railways books presented here is the Bradshaw's Handbook - A Facsimile of the Famous Guide (Old House).
This book is arguably the best collectors item on British railways from the 1860s. It features a road map of the railway system at its peak, tour routes and chronicles important events on the UK railway of that era.
No wonder this facsimile is described as a Handbook that deserves a place on the "bookshelf of any traveller, railway enthusiast, historian or anglophile."
2. The Railway Man

If there is one Amazon railway books you should be adding to your reading list, please make it The Railway Man.
This is an epic award winning novel featuring Eric Lomax, a Japanese prisoner of war epitomizes the human ability to endure harrowing situations, clinging to tiny strings of hope, one at a time and with perseverance survived the terrible experience.
Railway connection? Yes. The book featured Eric Lomax obsession and love for the steam railway and how this contributed to his survival on the notorious Burma-Siam Railway during World War Two.
It has been described as ""Of all the billions of words that have been written about the Second World War, with the exception of Churchill's Nobel Prize winning history, it is not an exaggeration to say there is no account of it more worth reading that this. Wistfully romantic, historically important, startling, horrifying and ultimately electrifyingly uplifting, The Railway Man is as indispensable as any book can be." (Tom Peck Independent) "
The Railway Man has made it into a major block buster film featuring Nicole Kidman, Colin Firth and Jeremy Irvine.
We could not recommend this book enough. It is a must for everyone to read. Get your copy of The Railway Man here now.

3. The Railway Children
If you are looking for a Children classic book to amuse and educate your tots to teenagers alike, then this is a must on your list.
Written by the award wining author and arguably one of the finest children book writers of all time, E. (Edith) Nesbit, The Railway Children combines a mix of suspense, adventure, railway enthusiasm to demonstrate how a family of three kids were separated from their father and despite very difficult emotions and travails were able to overcome all obstacles and find true happiness.
You can download The Railway Children for free online (if still available) or for just over £1 or £2. It is one of the greatest of classic Amazon railway books recommended for your enjoyment. It comes as an audiobook too, as well as BBC Television program.

4. Busy Railway (Busy Books)

There is no better way to instill the "love of railways" into your little one than introducing him or her to the Busy Railway book. With the current edition at time of writing released on the 30 Jan 2014, this best-seller is now in it's 10th year as a most favorite children hands-on books for kids.
Your little one would be able to literally bring a railway engine to live by pulling or pushing on tabs and cause the steam engine to puff up "smoke" and make the train move in the tunnel.
It is fun book for busy kids to engage and entertain. Why not throw it into your list of top 5 railway books if you have little ones in your immediate or extended family or for your friend's kids?

5. Peco 60 Plans Book
The Peco 60 Plans Book is an excellent manual for new and experienced railway enthusiasts looking to understand and build a model railway.
Like the label on the "tin", it carefully rolls out 60 different models for you to build, with varying degree of complexity.
If you are looking for a great starter book to guide you through designing your model railway, this is the book. Again, it is listed here amongst the top 5 Amazon Railway books because we both believe ( in association with Amazon.co.uk), that it is an excellent book for all railway enthusiast. Why not try it out and leave us your opinion.

Railway Books Reviews
Do you have a great railway book you have found most informative and useful?
Are you happy to post your experience or book discovery on railways here with fellow enthusiasts? Share it!