Heathrow Express - Fast Connection for Flyers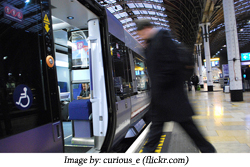 As Britain's busiest airport, and one the biggest in the world, Heathrow Airport is an important hub for world travel and the Heathrow Express offers a vital connection between the central London station Paddington and the airport itself. The purpose is to get travellers to and from the airport to their connections as quickly as possible.
With trains every 15 minutes and a journey time to and from the two termini of the same time this is a very efficient way of making the connection, and London Paddington is well placed to provide links to other rail networks serving the capital.
16,000 Passengers a Day
The Heathrow Express service carries around 16,000 passengers to and from the airport each day and is the fastest link between the city and the airport. The service uses largely underground lines and does not have any interconnecting networks along the route for added efficiency.
Opened in 1998, the route is an essential service that serves a very busy airport with excellent journey times on modern rolling stock and is popular with people travelling to the airport from the North. Paddington features connections to major London termini that mean just about anyone can reach the Heathrow Express from any city in the country.
Easy Online Booking
The Heathrow Express website offers a quick and simple to use booking system - see www.heathrowexpress.com - that is designed to make planning your journey easier, and also provides a detailed timetable that is updated whenever changes are made. Booking online is simple, safe and secure and gives you advance notice of the journey.
The trains take 15 minutes to take passengers to terminal 1 or 3, with added times of a further six minutes to terminal 5 and a further four to terminal 4. With four trains an hour passengers are well catered for, and should also look out for possible discount fares for advance or group bookings.



C2C Train To Fenchurch Street
|
First Transpennine Express trains
|
Arriva Trains Wales
|
C2C Rail
|
CrossCountry (XC Trains Limited)
|
East Coast Main Line
|
East Midlands Trains
|
First Capital Connect
|
First Great Western
|
First ScotRail
|
First TransPennine Express
|
Gatwick Express
Return To "Train Operating Companies" Page From "Heathrow Express" Page