South West Trains - London Waterloo to the English Riviera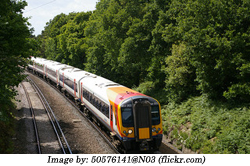 The service offered by South West Trains is a comprehensive network of routes linking London - via Waterloo station - with the many regions of the south west of England, including some of the most popular holiday resorts in the area. The main route runs from Waterloo to the delightful resort and port of Weymouth, from where travellers can take a ferry to the Channel Islands and France. Many important commuter and tourist destinations are included on the line.
Along the route are several branches that serve other parts of this beautiful region of England including more northerly towns such as Reading which is in a prime commuter area, and there are many points of interest throughout the network. Within London itself there are direct connections with the Tube network providing easy access for visitors to many of the major attractions in the capital, while elsewhere on the routes there are many stations where passengers can change to take a journey with other operators, giving excellent access to much more of the UK.
Waterloo to Weymouth
As the central line on the South West Trains route the Waterloo to Weymouth line is the central focus for passengers. The line heads south and passes through towns such as Weybridge and Woking before nearing the coast, and from then on visits several attractive and famous seaside towns - Southampton, Bournemouth and Poole among them - before reaching its terminus at Weymouth.
Southampton Central and Lymington Pier - reached via a small branch - offer ferry services to the Isle of Wight where South West Trains runs a service connecting Ryde to Shanklin on the picturesque East Coast of the island. A separate spar - from Woking via Guildford - takes passengers to the important and beautiful ports of Portsmouth and Southsea, both popular tourist destinations.
Basingstoke to Exeter
An important branch of the South West Trains network can be found leaving the main line at Basingstoke. This line heads west across country and runs through the beautiful cathedral city of Salisbury - a must-see destination for visitors to this part of the country - and then through charming towns such as Yeovil and Axminster before finding the end of the line in the very attractive city of Exeter.
A separate spar off this line, met at Salisbury, takes visitors north-west and runs through Warminster and Trowbridge before coming to an end at the historic town of Bristol. This is a particularly pleasant journey that takes passengers into Brunel railway country - definitely a journey for the rail enthusiast.
Windsor and Reading
A branch line laving the main route at Clapham Junction serves passengers who want to travel to towns such as Ashford and the horse racing centre at Ascot, with the terminus at the under-rated city of Reading, a place of many hidden delights. From this line it is possible to take a diversion on a small branch at Staines that travels to the beautiful Windsor and Eton Riverside destination, with easy access from there to the Royal castle.
Cheap Journeys on South West Rail
South West Rail offers a wide variety of tickets including season tickets, singles and returns and the website -
www.southwesttrains.co.uk
- includes plenty of information on booking tickets online, getting discounts for advance bookings, student and children's discounts and more. Groups are also subject to discounted fares and there are special deals for groups travelling off-peak. The online booking service is easy to use, safe and secure, and there is also a journey planner plus a live information service detailing any problems or delays at that time.
Return To "Train Operating Companies" Page From "South West Trains" Page